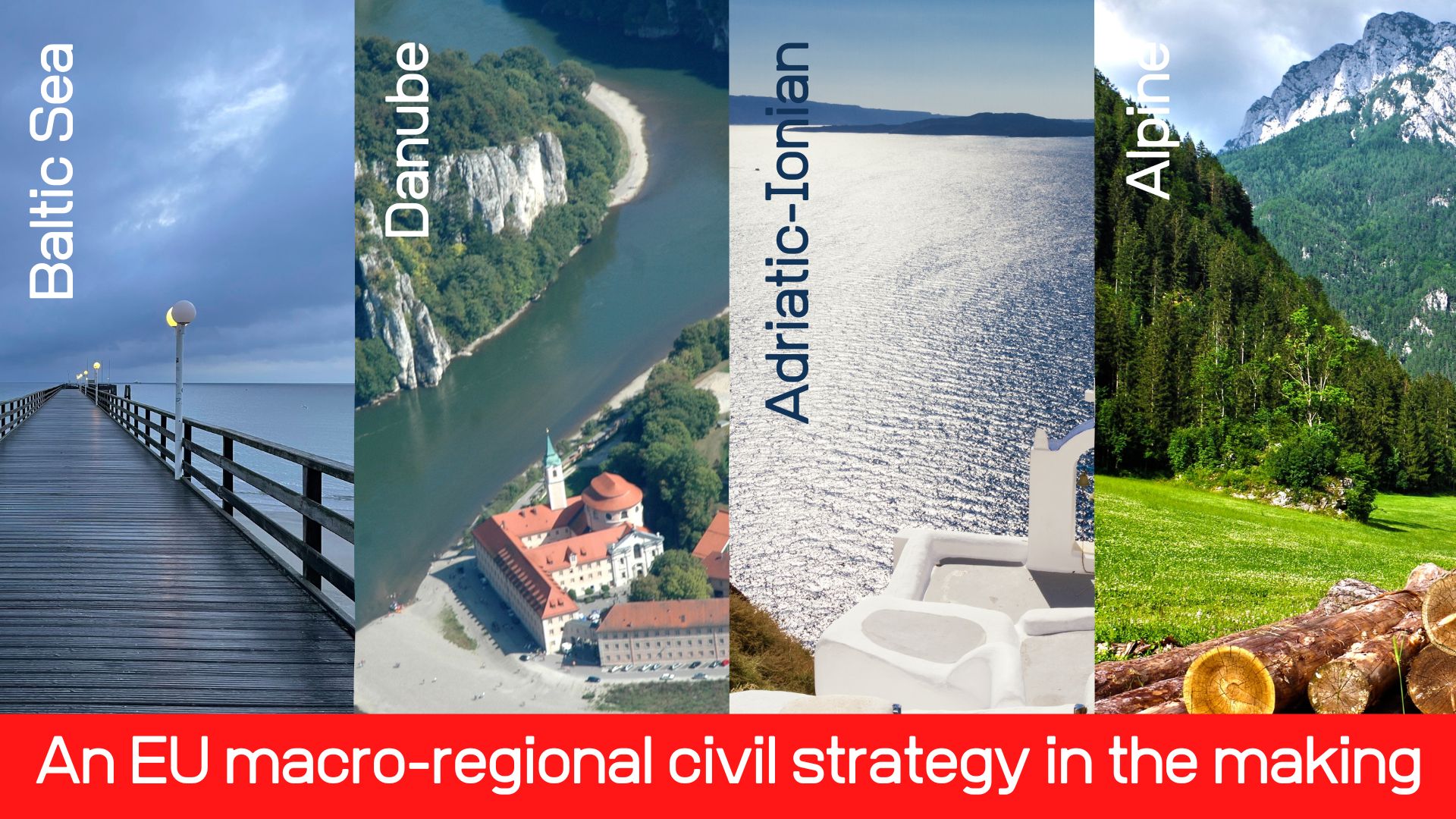 Macro-regional strategies are a promising policy area of the European Union. They aim to bring closer connected areas to strengthen cooperation and contribute to economic, social and territorial cohesion. Today, the EU has four macro-regional strategies: the Baltic Sea (EUSBSR), the Danube (EUSDR), the Adriatic-Ionian (EUSAIR) and the Alpine (EUSALP) Region.
Our conviction is that civil society organisation play a crucial role in the successful implementation of the macro-regional strategies. Even if they operate under different conditions and circumstances in the macro-regions, they also have common goals addressing such issues as the climate change, the energy crisis, social questions or the war in Ukraine. With their intermediary function they have a huge and frequently unused potential to contribute to the promotion of the European project.
The elaboration of a place-based EU macro-regional civil strategy offers a helping hand in this regard leading to the establishment of an institutionalised citizens' dialogue across macro-regions.
The Stronger.Together programme of European House Budapest aims to prepare a proposal for an EU macro-regional civil strategy by bringing together civil society actors from the four macro-regions. One of the elements of the programme is a series of prepartory events/consultations on the macro-regional civil strategy.
European House Budapest is pleased to invite you to the first chapter, the preparatory event for stakeholders from the Danube Region, of the process leading to the elaboration of a proposal for an EU-macro-regional civil strategy. Similar preparatory events will be organised in the other macro-regions in 2023.
When?
10:00-13:00 hours
Friday, 14 April 2023
Where?
European Parliament Liaison Office in Vienna
Haus der Europäischen Union
Wipplingerstrasse 35
1010 Vienna, Austria
The invitation letter and the draft programme of the event.
The event is followed by a solidarity activity with Ukraine in the afternoon.
The event is open to all interested stakeholders.
Please register here if you wish to attend.
The Commission's 4th Implementation Report on macro-regional strategies and our Shadow Report serve as background documents to the event. The Concept Note of an EU macro-regional civil startegy will also be available.
The concept note for an EU macro-regional civil strategy is available here.
Looking forward to meeting you in Vienna,
Miklos Barabas
Director
European House
The event is co-funded by the European Union and supported by the Erste Stiftung.